Gut health rejuvenation -
regain control of your health
The Dr Cabot Cleanse is a 15-day detox plan that will help you regain control of your health. The program was designed by Dr Sandra Cabot and her medical team to restore gut and liver health and reduce inflammation and acidity in the body. This detox program improves the health of your cells and strengthens the immune system.
Dr Cabot has hand-picked every ingredient in the Dr Cabot Cleanse products; she has gone to great lengths to ensure the products are of the highest quality. The Dr Cabot Cleanse provides an easy detox program comprising 3 products to take daily plus a meal plan complete with recipes.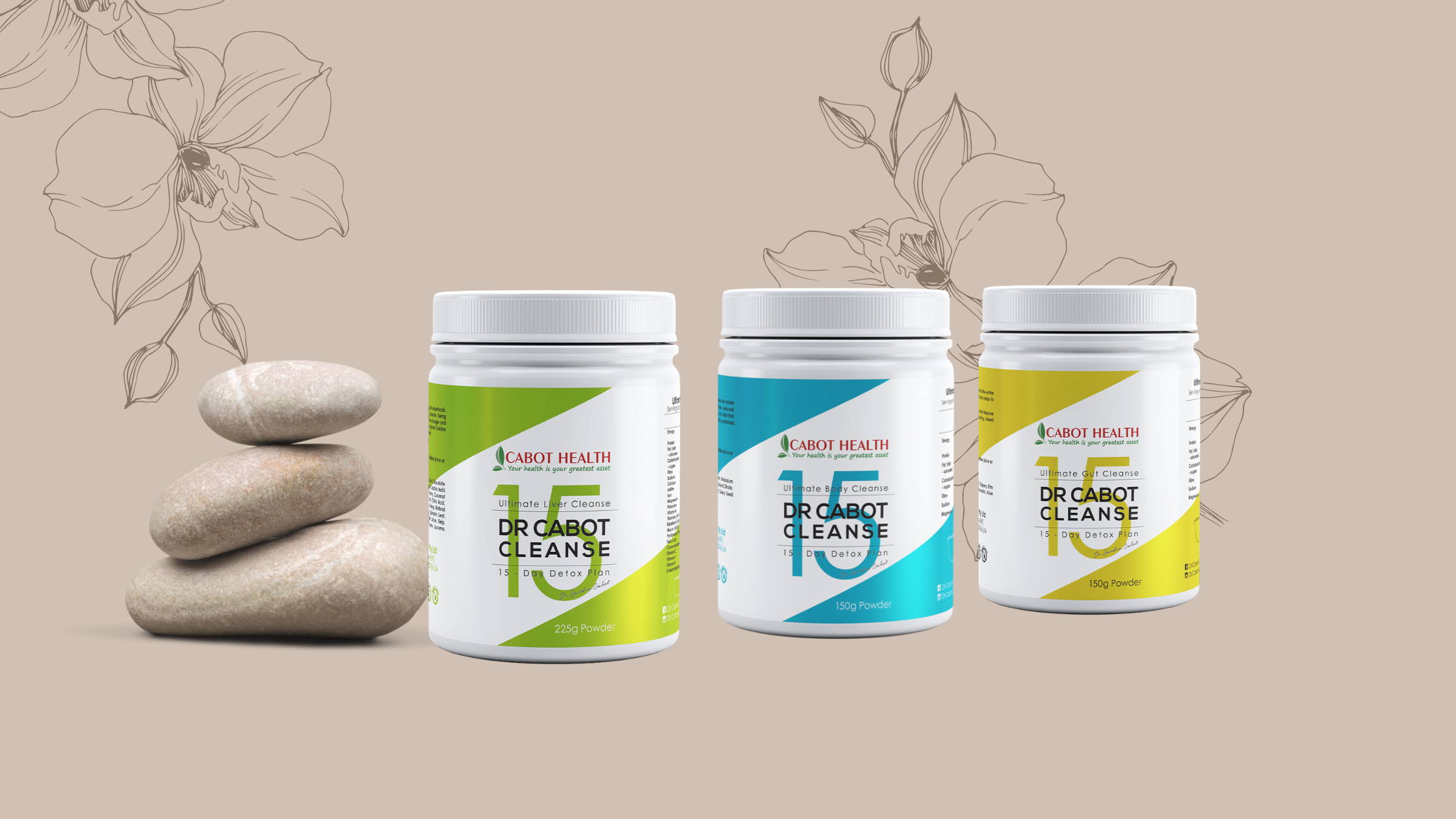 "My results were noticeable within days! Glowing skin, no bloating, no brain fog, stronger nails, and a total fat loss of 1.5kg after a week." Jeanette
Cleansing offers additional support to the detoxification organs to remove toxins, waste products and excess cholesterol from the body. We are regularly exposed to an array of chemicals and toxins through cleaning products, industrial gases, pesticides, cigarette smoke, medication, alcohol, personal care products and car fumes. Our livers are responsible for processing all of these toxins and removing them from our body via our bowels, urine, breath and sweat.
Our diets also have a huge impact on our detoxification capacity. Refined grains, refined sugars and processed foods lack the nutrients required for detoxification and place additional strain on our livers. Toxins and fat build-up in the liver, causing it to be sluggish and/or fatty; this increases the risk of insulin resistance, diabetes and obesity.
The Dr Cabot Cleanse offers your organs, gut and cells, the support they need to function optimally. The program enhances the liver's detoxification pathways, strengthens gut health and alkalinises the body to make you the healthiest version of yourself.
What's included in 15 day Dr Cabot Cleanse?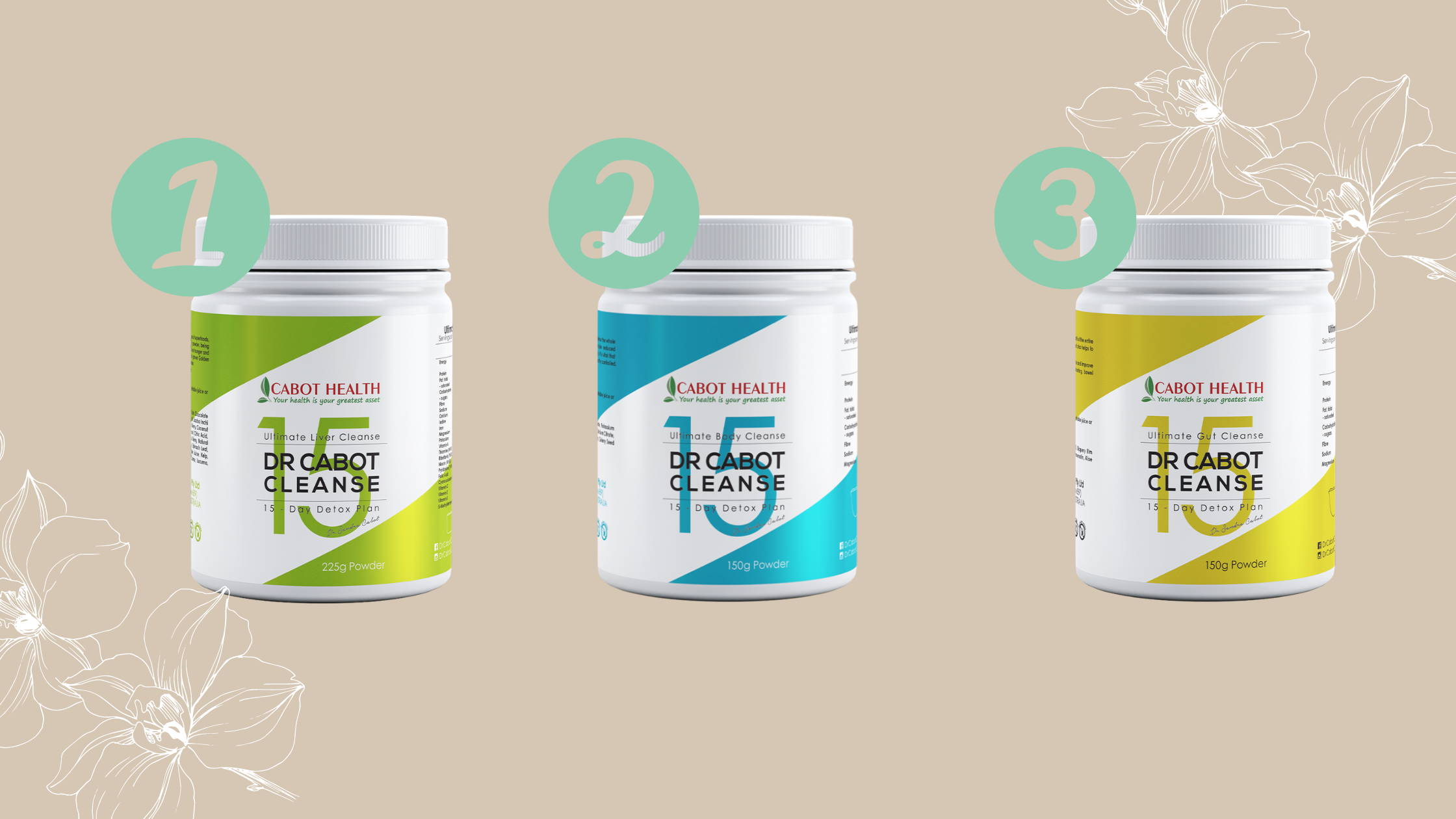 ULTIMATE LIVER CLEANSE

The Ultimate Liver Cleanse powder is a comprehensive formulation, combining potent antioxidants, high quality superfoods, herbs, greens, vitamins and minerals. It is very high in protein, containing 60% protein by weight. The protein comes from superior Golden Pea protein and is suitable for vegans. This

powder contains over 40 key ingredients to support liver and immune health and to increase energy.

ULTIMATE BODY CLEANSE

The Ultimate Body Cleanse powder is a potent combination of alkalinising greens and minerals. It has been designed to reduce acidity and optimise the pH (acid-base balance) in the body.

ULTIMATE GUT CLEANSE

The Ultimate Gut Cleanse powder is a superior gut powder, combining nourishing and healing amino acids, fibres and a live probiotic. This formula was designed to repair and strengthen the gut and improve gut bacteria.
Frequently Asked Questions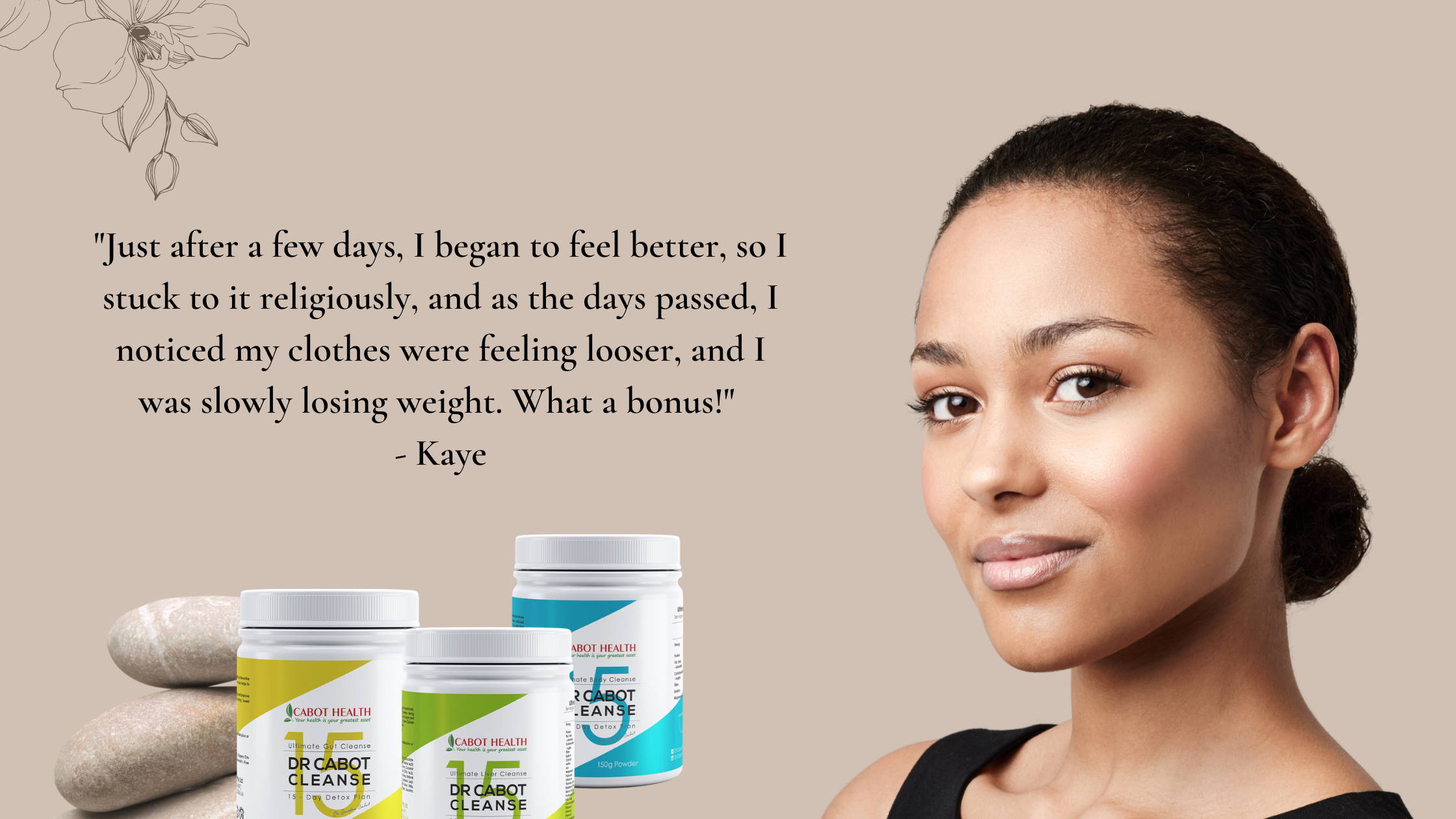 1: Is Dr Cabot Cleanse safe during pregnancy?
We advise that you do NOT do any form of cleansing or detoxification during pregnancy. It has been shown that a cleanse is beneficial to do for both expectant parents before conceiving; this will optimise chances of healthy eggs (follicles) and sperm and also reduce amounts of toxins in the body which could be transferred to the foetus. Also, this will reduce toxin accumulation in the breasts for women who want to breast feed.
2: Does the Dr Cabot Cleanse cause any side effects?
During a detox, you will be breaking down (metabolising) and eliminating more toxins from your body, and these will most likely have accumulated over many years. This can cause a headache, nausea or fatigue or perhaps a change in bowel actions. Generally, these symptoms are temporary and mild. You may also have slightly itchy skin, sweat more and feel a little overheated. Most symptoms will abate after several days and be reduced a lot by drinking more water. Rarely a skin rash may occur, which could be a detox reaction or an allergy; if this occurs call our Health Advisory Service
3: How often can I do Dr Cabot Cleanse?
This is up to you and your state of health and it is perfectly safe to do it every 3 months. It is beneficial to do it several times a year, but at least once a year. We do have an excellent maintenance plan that keeps your toxin load down and supports optimal health. You can continue to receive or make the food and you take the Dr Cabot Ultimate Superfood Powder and Dr Cabot The Ultimate Gut Health Powder every day long term. You will feel so much better, why would you want to go back to eating poorly and becoming deficient again.
4: Will my health be better after Dr Cabot Cleanse?
After 15 days you will have reduced the toxin load in all your body cells. You will also have improved your gut flora which will give you better digestion.
Usually, this makes you feel more energetic, less bloated and clearer in your brain. Long-term benefits will last several weeks to months, and obviously longer if you can maintain a healthier diet and lifestyle.
5: May I drink any alcohol during cleanse?
No, as this will overload the liver and reduce your focus on detoxing.
Your liver will appreciate a rest from the hard work it is doing breaking down and eliminating many other toxins.